Mum woke me up to say ' We're going up to Dublin today! '
Oh wow that rhymed. Teehee.
Anyway. We wanted to go up to see the lights with all the Christmas decorations,
I wanted to shop :]
Not to forget grab myself some Malaysian goodness by stopping by Charlie's one of the Malaysian restaurants in Dublin which served an amazing
Nasi Lemak
which is
boiled fragrant rice with chicken rendang with peanuts, sliced cucumber, fried egg together with onion and anchovy spicy sambal.
MMMHMMM...
And after 6 months without japanese food, my teeth finally sank into some yummy spicy salmon roe. So delish! The streets were filled with people, people who were ready to kill for bargains. Managed to get myself a new
dress
, a tub of
Body Shop passion fruit body butter
which smells oh-so-awesome and the
Britney Spear's Midnight Fantasy perfume
for only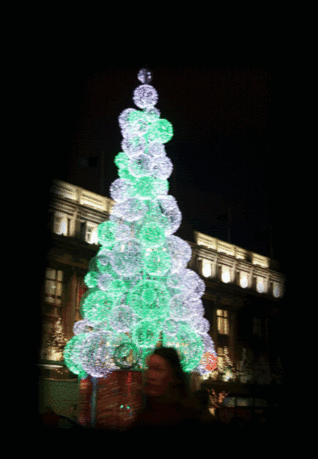 And Dublin was definitely a brightly lit attraction
Especially this Christmas tree which couldn't decide on which colour it'd rather be :]